Dance Uniform Details for Ballet, Jazz & Tap
Find information and resources to keep your ballerina learning in between classes. We also share links we love and trusted places where you can find all of your ballet, jazz and tap dancewear supplies.
We recommend MDM ballet shoes for all our dancers
MDM is the only foot wear that has been specifically designed to provide every dancer with the correct levels of support, shock absorption and alignment guidance. It is for these reasons we encourage all our dancers towards MDM. MDM shoes can be purchased at Capezio by Ballet Emporium at Bondi Junction
18 months – 5 years: Whatever your little dancer desires
Little dancers want to wear what inspires them so there is no official uniform for the Tutu Toddlers and Little Tutus ballet classes, our littlest dancers who are 18 months to 5 years old.
Now available for purchase our exclusive Tutu Studios Tutus for Tutu Toddlers and Little Tutus classes. These beautiful peach coloured tutus have a gorgeous sparkle overlay on the skirt and exquisite silver embellishments on the bodice. Email info@tutustudios.com.au to order.
Tutus, fairy dresses, dress ups, or shorts or leggings with a top are all acceptable, as long as your little one feels good and can move freely. It is also preferable that dresses are not too long and do not cover the knees.
We highly recommend the MDM Mini Ballet shoe for our tiny dancers.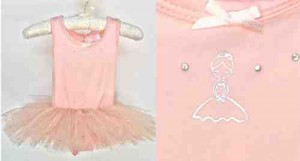 Pre primary ballet (5-6 years) & Primary ballet (6-7 years)
Girls Pre-Primary Ballet and Ballet Uniform Details
White Sleeveless Gathered Front Leotard
Ballet Emporium or Dance Direct: Energetiks Gathered Front Leotard CL04
Bloch: Overture Odetta Sleeveless Pleat Girls Leotard L0828G
White Full Circle Skirt
Ballet Emporium or Dance Direct: Energetiks Full Circle CS17
Bloch: Cheyna Chiffon Circle Skirt AO330G, or Royale Skirt A0735G
White or Black Crossover Ballet Wrap for Winter
Pink Ballet Ankle Socks
Pink Leather Ballet Shoes (MDM Preferred)